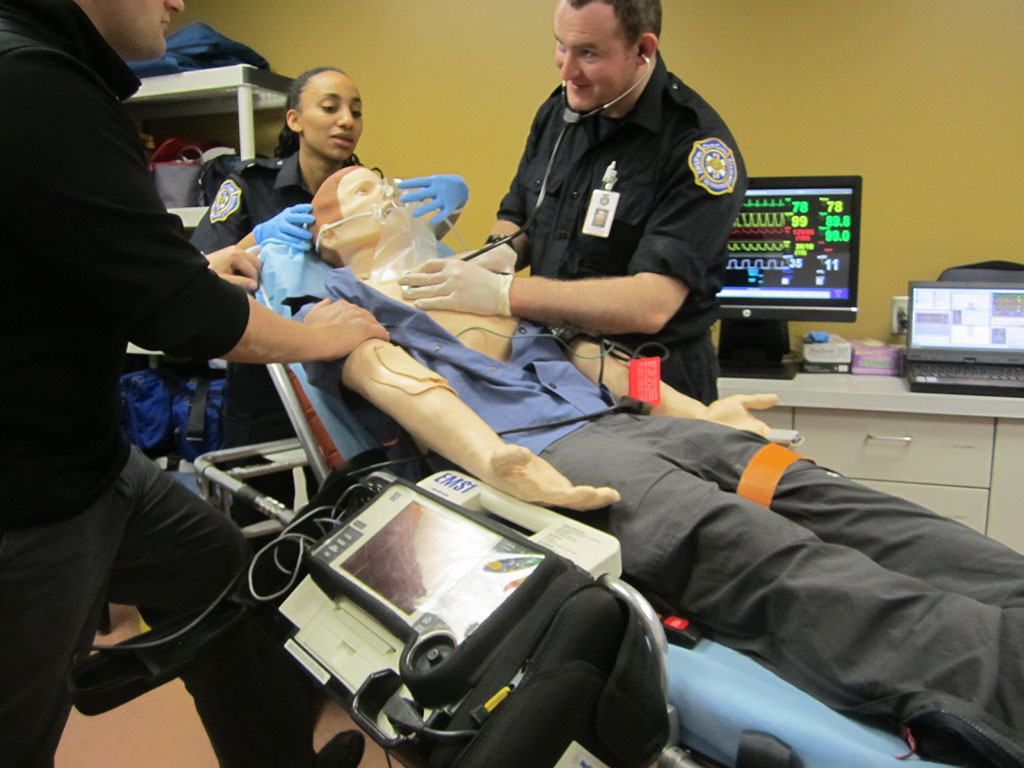 An Extraordinary Career Demands Extraordinary Training
With more than 70% of all new Winnipeg EMS hires being Criti Care grads, greater than half of Winnipeg EMS Paramedics (WFPS-WEMS) are now Criti Care alumni.  In fact, Criti Care graduates can be found working in every health region in Manitoba.  Criti Care EMS serves a pivotal role in the delivery of Emergency Medical Services training and education in Manitoba.  As an industry leading elite training facility, we bring together industry knowledge delivered by emergency services professionals working in the field and intense practical training, graduating career prepared individuals most sought after by municipal emergency services in Winnipeg and Manitoba.
As professionals in the field, our staff at Criti Care understand the high level of training paramedics require in order to meet the challenges they face in a fast paced and demanding environment. That is why, when it comes to the quality of training we provide there is no room for compromise. Our comprehensive and world class training gets the very best out of our students and we have over 25 years of history producing some of the very best paramedics in the province to prove it.
We are proud to offer some of the most experienced and highly trained instructors in the region. All of our instructors are practicing professionals with the Winnipeg Fire Paramedic service and Regional Health Authorities. We also employ practicing professionals in the areas of law and medicine, having lawyers and physicians lend their expertise to specific areas of program instruction. All of our faculty at Criti Care EMS have strong academic backgrounds in science, pre hospital medicine and real life, extensive clinical experience.
The Criti Care Difference:
Highest employment rate of any academy in the region
Criti Care graduates account for more Paramedics in Winnipeg EMS system (WEMS) than from all other colleges combined
Most advanced training technology utilizing high-fidelity simulation training
Outstanding success rates on National COPR Exams
Full time (day) classes are offered throughout the year
Educational Institute Standard Score Performance Report (2020)
CANADIAN ORGANIZATION OF PARAMEDIC REGULATORS (COPR)
Criti Care EMS Passing Rate compared to the National Average

Criti Care EMS Standard Score Performance compared to the National Average

Paramedic Academy Goals:
CRITI CARE EMS actively pursues the following overarching institutional goals:
To provide and promote a stable self-perpetuating climate in which ethical behavior and community service are valued and where students and Faculty are challenged to excel and to develop their talent.
To recruit and provide admissions assistance for all qualified students, resulting in access to career-oriented post-secondary programs.
To develop and provide effective EMS oriented post-secondary programs consisting of technical curricula that focus on skills sought by employers.
To develop and provide opportunities within the curricula for students to enhance their analytical, oral and written skills as well as their intellectual growth and personal development.
To develop and provide services to students that will enrich their educational experience and enhance their opportunity to achieve their career goals.
To periodically evaluate, revise, and improve key programs and processes to ensure continual progress toward attainment of Criti Care's goals.
Paramedicine Program
Course Goals
This course is designed to instruct a student to the level of Primary Care Paramedic, who serves as a vital link in the chain of the health care team.  It is recognized that the majority of prehospital emergency medical care in Manitoba will be provided by the Primary Care Paramedic. This includes all skills necessary for the individual to provide emergency medical care at a basic life support level with an ambulance service.  Broadly, the course goals may be summarized as follows:
Recognize the nature and seriousness of the patient's condition or extent of injuries to assess requirements for emergency medical care as outlined in the Paramedic Association of Canada's (PAC) National Occupational Competency Profile (NOCP) objectives in the area Assessment and Diagnostics.
Administer appropriate emergency medical care based on assessment findings of the patient's condition as outlined in the National Occupational Competency Profile (NOCP) objectives in the area Therapeutics and Integration.
Lift, move, position, transport and otherwise handle the patient to minimize discomfort and prevent further injury as outlined in the National Occupational Competency Profile (NOCP) objectives in the area Health and Safety, Transportation, Health Promotion & Public Safety.
Perform safely and effectively the expectations of the job description as outlined in the National Occupational Competency Profile (NOCP) objectives in the area Health and Safety and Integration.
Promote professional qualities and attributes that advance EMS as a profession as outlined in the National Occupational Competency Profile (NOCP) objectives in the area Professional Responsibilities and Communications.
Do you have what it takes?
Paramedic Characteristics 
The Paramedic must be a confident leader who can accept the challenge and high degree of responsibility entailed in the position. The Paramedic must have excellent judgement,be able to prioritize decisions,act quickly in the best interest of the patient be self disciplined, develop patient rapport, interview challenging patients and maintain safety. The Paramedic must be able to recognize and utilize communication unique to diverse multicultural groups and ages within those groups as well as being able to function independently at an optimum level in a non-structured environment that is constantly changing. Generally, the Paramedic is part of a two-person team; Paramedics, depending on training and jurisdiction, are often responsible for safe and therapeutic administration of drugs including narcotics. Therefore, the Paramedic must not only be knowledgeable about medications but must also be able to apply this knowledge in a practical sense. For ACP's (Advanced Care Paramedics) and CCP's (Critical Care Paramedics) knowledge and practical application of medications is extensive. Knowledge and understanding of the general propertiesfor all types of drugs including analgesics, anesthetics, anti-anxiety drugs, sedatives and hypnotics, anti-convulsants, central nervous stimulants, psychotherapeutics which include antidepressants, and other anti-psychotics, anticholerginics, cholergenics, muscle relaxants, anti-dysrythmics, anti-hypertensives, anticoagulants, diuretics, bronchodilators, opthalmics, pituitary drugs, gastro-intestinal drugs, hormones, antibiotics, antifungals, antiinflammatories, serums, vaccines, anti-parasitics, and others is a must. The Paramedic is personally, legally, ethically, and morally responsible for knowing their scope of practice and treatment protocols when drugs are administered. The Paramedic must use correct precautions and techniques, including observing and documenting the effects of the drugs administered. All Paramedics must be able to perform Basic Life Support, including providing oxygen, maintaining an airway, controlling hemorrhage, immobilizing fractures, etc. ACP's and CCP's must also be capable of providing advanced life support emergency medical services to patients including conducting and interpreting electrocardiograms (EKGs), electrical interventions to support the cardiac functions, performing advanced endotracheal intubations in airway management and relief of pneumothorax as well as administering appropriate intravenous fluids and drugs. The Paramedic is a person who must not only remain calm while working in difficult and stressful circumstances, but must also be capable of staying focused while assuming the leadership role inherent in carrying out the functions of the position. Good judgement along with advanced knowledge and technical skills are essential in directing other team members to assist as needed. The Paramedic must be able to provide top quality care, concurrently handle high levels of stress, and be willing to take on the personal responsibility required of the position. This includes not only all legal ramifications for precise documentation, but also the responsibility for using the knowledge and skills acquired in real life threatening emergency situations. The Paramedic must be able to deal with adverse and often dangerous situations which include responding to calls in districts known to have high crime and mortality rates. Self-confidence is critical, as is a desire to work with people, solid emotional stability, a tolerance for high stress, and the ability to meet the physical, intellectual, and cognitive requirements demanded by this position.
Physical Demands
Aptitudes required for work of this nature are; good physical stamina, endurance, and body condition that would not be adversely affected by frequently having to walk, stand, lift, carry, and balance at times, in excess of 125 pounds. Motor coordination is necessary because in the event of uneven terrain, the patient's, Paramedic's, and other workers' well being must not be jeopardized. Click here to see Physical Fitness Assesment Outline The Paramedic provides pre-hospital care and typically works for municipal, civic, regional or private ambulance services. Response times and the duration of the EMS call for service are dependent upon the nature of call. For example, on one call the Paramedic may transport a stabilized patient from one hospital to a different unit at another hospital; on the next call, the Paramedic may respond to a 911 call for a stabbing in a district known to have high crime rates. Thus, the particular stresses inherent in the role of the Paramedic can vary, depending on the nature of the call, as well as the place and type of employment. However, in general, the Paramedic must be flexible to meet the demands of the ever-changing emergency scene. When medical or traumatic emergencies arise, the situation can be complex and care of the patient must be started immediately. In essence, the Paramedic in the EMS system uses advanced training and equipment to extend emergency physician services to the ill or injured in the pre-hospital environment of the ambulance. The Paramedic must be able to make accurate independent judgements while following oral or written directives. The ability to perform duties in a timely manner is essential, as it could mean the difference between life and death for the patient. Use of cellular telephone or radio dispatch for coordination of prompt emergency services is required, as is a pager, depending on place of employment. Accurately discerning street names through map reading, and correctly distinguishing house numbers or business addresses are essential to task completion in the most expedient manner. Concisely and accurately describing orally to dispatcher and other concerned staff one's impression of patient's condition, is critical as the Paramedic works in emergency conditions where there may not be time for deliberation. The Paramedic must also be able to accurately report orally and in writing, all relevant patient data. At times, reporting may require a detailed narrative on extenuating circumstances or conditions that go beyond what is required on a prescribed form. In some instances, the Paramedic must enter data on a computer in the ambulance. Superior verbal and reasoning skills are used extensively by paramedics.
The Emergency Medical Responder (EMR)
Successfully completed a recognized training program in emergency patient care and transportation. EMR's are part of the foundation upon which Canadian emergency medical systems are built. They are often associated with volunteer emergency services organizations in rural and remote areas, and may be the sole provider of emergency services in some communities. EMR's may be responsible for initial assessments, the provision of safe and prudent care, and the transport of a patient to the most appropriate health care facility. EMR's will learn the skills to provide basic cardiac life support, airway management, patient assessment including vital signs, management of medical & traumatic emergencies  and  emergency child delivery & neonatal care.
EMR Application: Go
The Primary Care Paramedic (PCP)
Successfully completed a recognized educational program in paramedicine at the primary care level. PCP's are career paramedics associated with urban, suburban, rural, remote, industrial, air ambulance and / or military services. PCPs constitute the largest group of paramedic practitioners in Canada. They are expected to demonstrate excellent decision-making skills, based on sound knowledge and principles. Controlled or delegated medical acts identified in the PCP competency profile include defibrillation and the administration of certain medications.
Primary Care Paramedic Application: Go
The Advanced Care Paramedic (ACP)
Successfully completed a recognized educational program in paramedicine at the advanced care level. Such programs often require prior certification at the PCP level (or equivalent). ACP's are most often employed by urban, suburban, air ambulance and / or military services. Currently relatively few ACP's are found in rural areas. ACP's are expected to build upon the foundation of PCP competencies, and apply their added knowledge and skills to provide enhanced levels of assessment and care. This includes the added responsibilities and expectations related to an increased number of controlled or delegated medical acts available. Controlled or delegated medical acts identified in the ACP competency profile include advanced techniques to manage life-threatening problems affecting patient airway, breathing, and circulation. ACPs may implement treatment measures that are invasive and / or pharmacological in nature.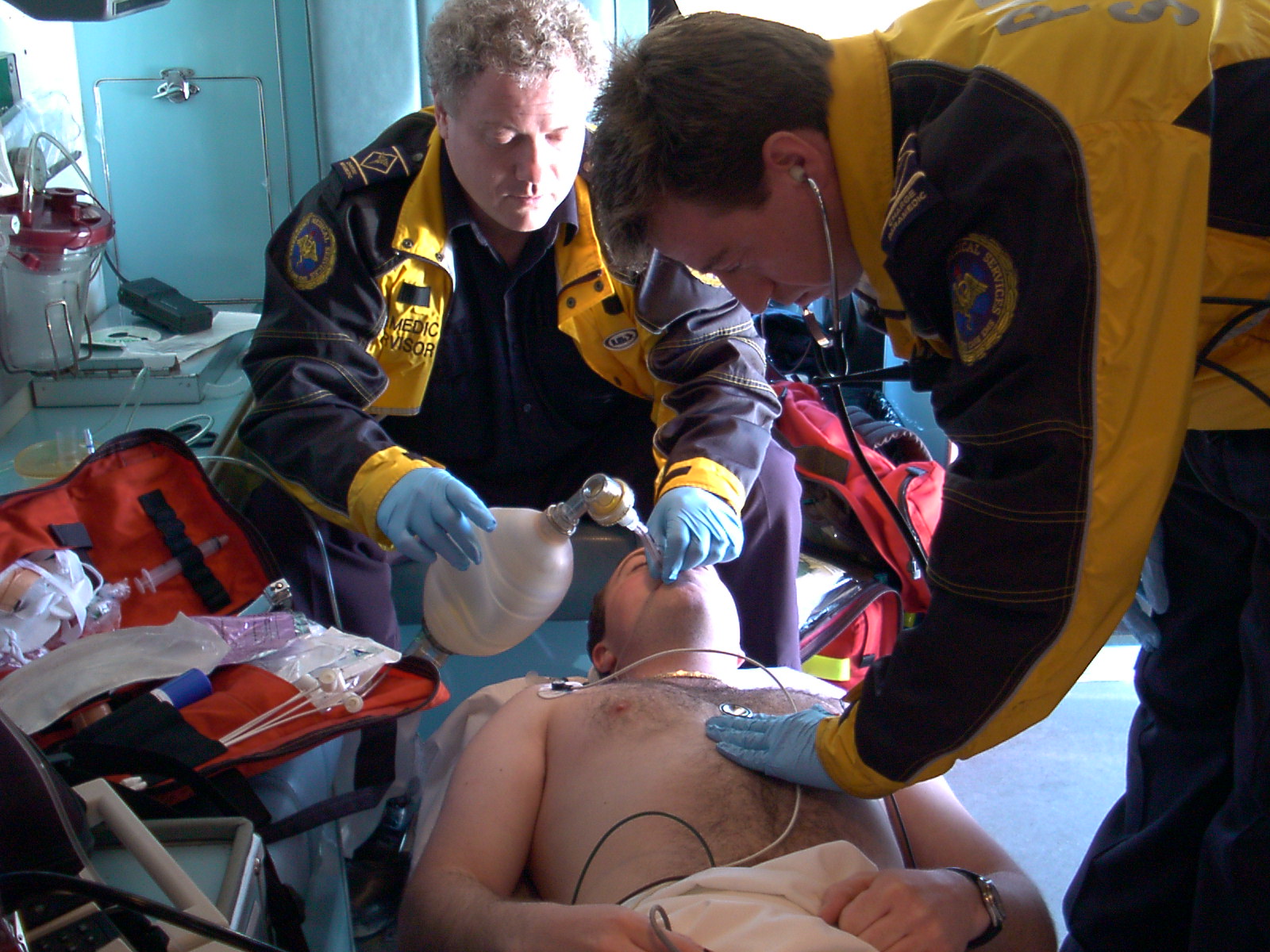 Regulation of Paramedic Practice and Approval of Training Programs
The practice of paramedicine in Canada is regulated by each province or, in the case of federal jurisdictions such as the military, by an appropriate federal authority.
Each regulator is free to determine the scope of practice and practitioner classification system that applies in its jurisdiction. Similarly the regulator may approve training program(s) that are a prerequisite to employment. A number of regulators are aligning their practitioner classifications with PAC's (Paramedic Association of Canada) NOCP levels.
In Manitoba on graduation from an EMR, PCP or ACP program a graduate may apply for Certificate of Practice (License) through College of Paramedics of Manitoba at the Emergency Medical Responder Level (EMR) Primary Care Paramedic Level (PCP) or Advanced Care Paramedic Level (ACP). In Manitoba to work for an ambulance service you must hold Certificate of Practice from the College of Paramedics of Manitoba (CPMB) at one of the aforementioned CPMB Certificate of Practice levels.
Criti Care EMS Primary Care Paramedic Program
Program at a glance
Commitment: 10 months (including classroom didactic, simulation and clinical practicum)
Approved by the College of Paramedics of Manitoba
Passing grade: 80%
Upon certification, candidates are eligible to write the National COPR exam.
Successfully passing the National COPR Exam allows a graduate to apply for a Certificate of Practice from the College of Paramedics of Manitoba.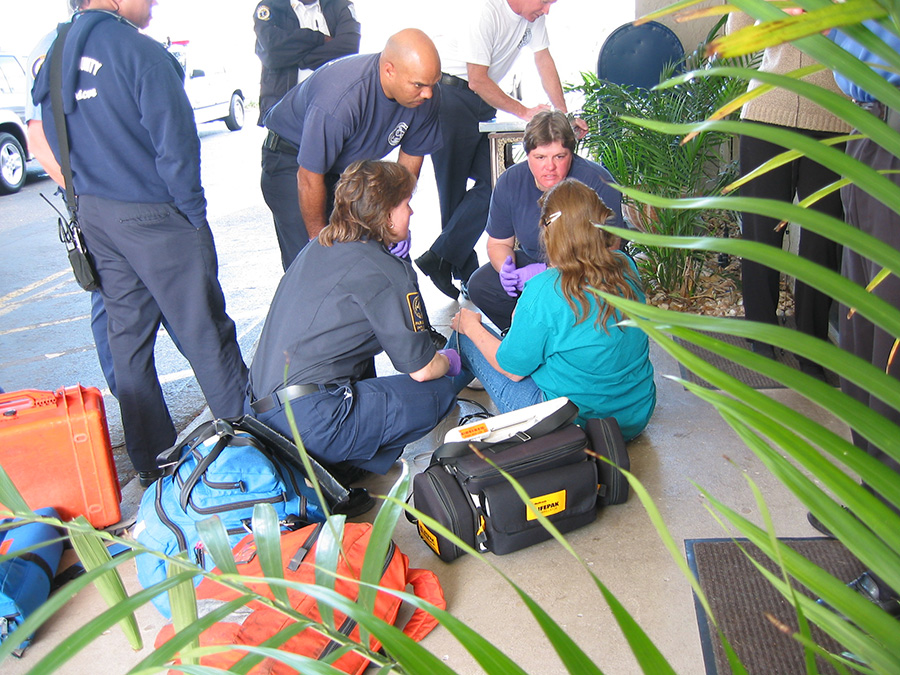 Application Process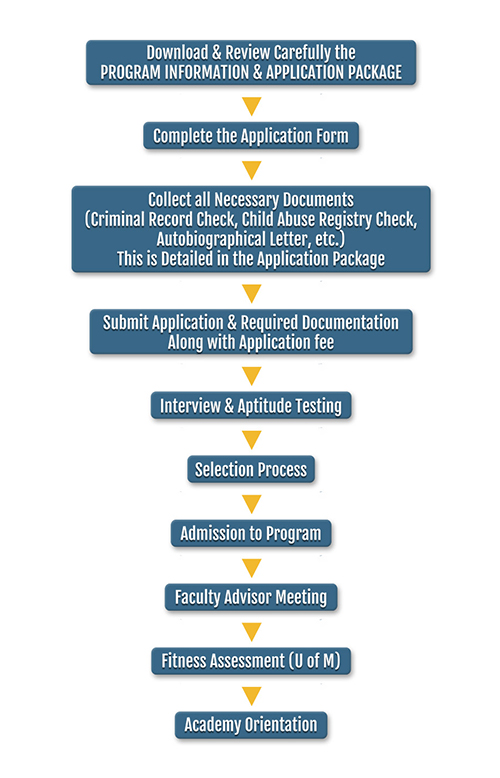 Primary Care Paramedic Application: Go