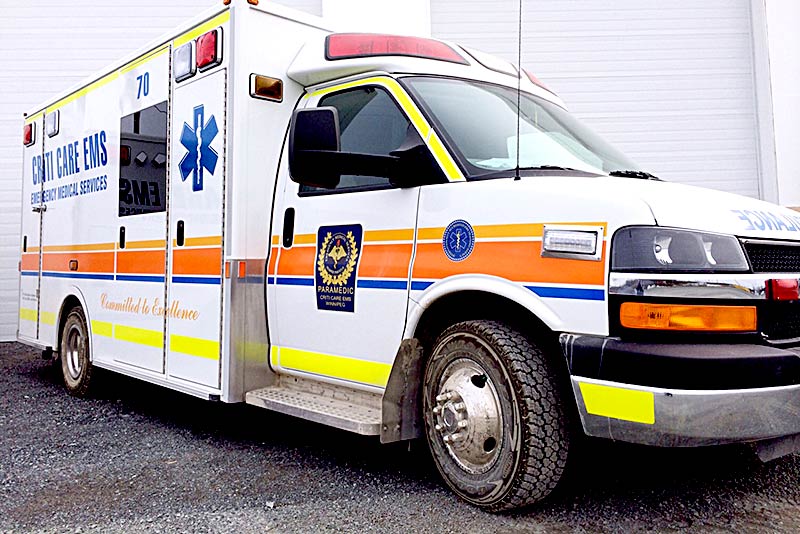 Emergency Medical Services, Ambulance Service and Paramedic Standby.
Criti Care's frontline emergency response staff consists of over 70 uniformed members (21 licensed Advanced Care Paramedics, 4 licensed Aeromedical Flight Paramedics, and over 40 licensed Primary Care Paramedics, plus EMS Field Supervisors and Training Officers). Field personnel are equipped with the most current technology, advanced equipment and vehicles available.
Criti Care EMS provides Advanced Care Paramedics and ambulance service to the NHL Winnipeg Jets, Assiniboia Downs, and Red River CoOp Speedway.
Criti Care EMS also provides 24/7 Emergency Medical Services and ambulance service to the northern Hydro communities of Keeyask and KeewatInoow. (Service delivery at Keeyask is a joint venture between Criti Care EMS and Cree Nation Partners). In addition to providing around the clock emergency response at these sites, Criti Care operates a robust community paramedicine program and works closely with the Northern Region Health Authority providing expanded services such as health monitoring, TB DOT programs, hypertension screening, and influenza immunization. Community/workplace First Aid and CPR training is also offered regularly at these sites.
Criti Care EMS provides community standby Emergency Medical Services to the public attending events at MTS Centre, Burton Cummings Theatre, and serves a large number of special events throughout the province including the Red River Exhibition, motocross racing, kart racing, rodeos, etc. Criti Care provides both EMS standby as well as "picture" vehicles to Manitoba's film and motion picture industry. Criti Care's licensed Paramedics provide EMS coverage at a number of industrial sites and construction projects, and are fully equipped to handle all types of medical and traumatic emergencies. Criti Care is COR certified by the Construction Safety Association of Manitoba.
Criti Care provides Paramedics and continuity of service staffing to various Regional Health Authorities in Manitoba, staffing municipal EMS services and responding to community 911 calls.
Beach Safety Services - Observe, Prevent, Rescue
The Mission of Criti Care's Beach Safety Program is to provide the highest quality services making Birds Hill Park safer for the public through rescue, education, outreach, medical aid, enforcement and prevention.
Criti Care provides comprehensive beach safety services to Birds Hill Park. Under contract to Manitoba Conservation, Beach Safety Officers (BSOs) provide monitoring of swimmers, water rescue, first aid care, emergency medical response, public programming and water safety education, assistance with missing persons, and enforcement of park rules and regulations. Last season alone, Criti Care Beach Safety Officers documented over 18,500 encounters! The Beach Safety Program boasts a total compliment of over 40 staff including BSO's, Captains, Assistant Captains and BSO Specialists. All BSO's must possess certification in lifeguarding, water rescue, CPR and First Aid, and have completed further specialized training through Criti Care's Beach Patrol Academy. 16 BSO's patrol Birds Hill Beach and surrounding areas daily during peak season. BSO Specialists are Beach Safety Officers that have also undergone extensive emergency medical training and are licensed Primary Care Paramedics, fully equipped to provide medical aid to beach patrons. Beach Safety Officers work closely with Park Patrol, Natural Resource Officers, RCMP, and various other public safety agencies to fulfill our mission of providing a safer aquatic environment every day.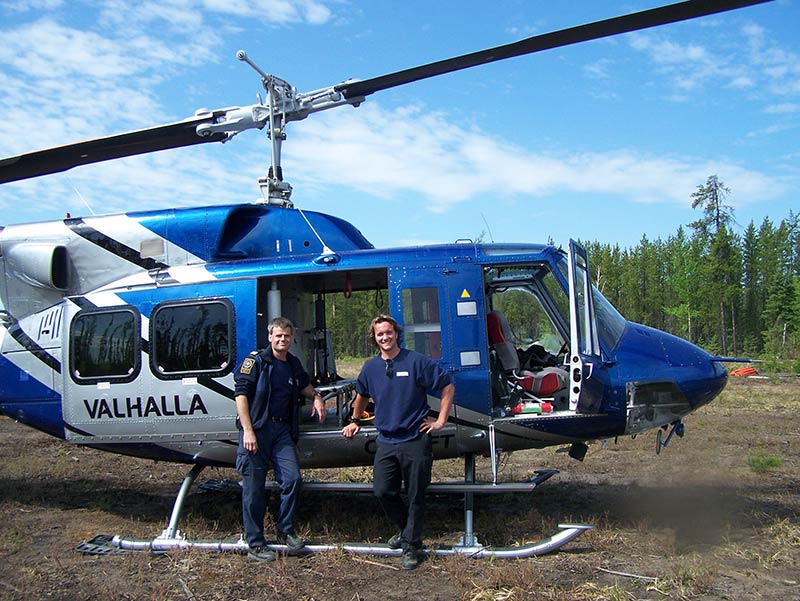 Wild Fire Medic Program
Criti Care's Paramedics are regularly deployed each season to support Manitoba Conservations' Wild Fire Program. Fully self-contained and equipped with cardiac monitor/defibrillators, oxygen, trauma supplies, and emergency medications, these medics are used to working in austere environments, often responding to the scene of an injury accident or medical emergency by helicopter or ATV.