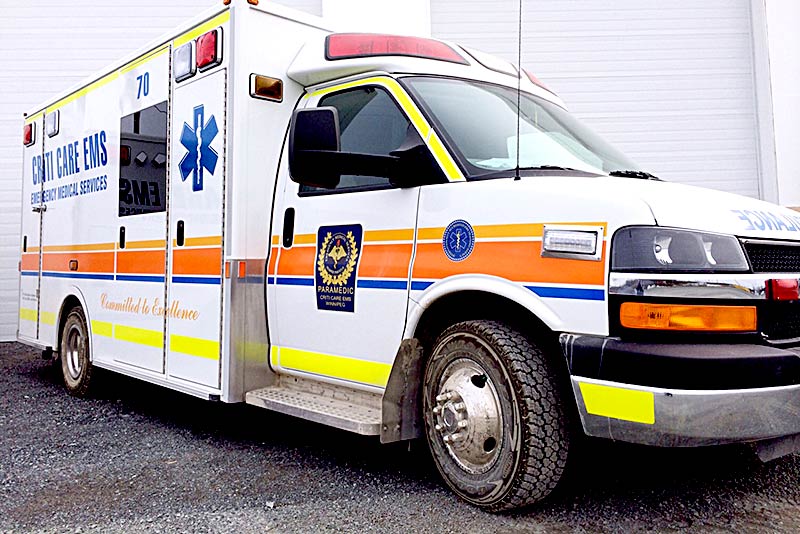 Emergency Medical Services, Ambulance Service and Paramedic Standby.
Criti Care's frontline emergency response staff consists of over 70 uniformed members (21 licensed Advanced Care Paramedics, 4 licensed Aeromedical Flight Paramedics, and over 40 licensed Primary Care Paramedics, plus EMS Field Supervisors and Training Officers). Field personnel are equipped with the most current technology, advanced equipment and vehicles available.
Criti Care EMS provides Advanced Care Paramedics and ambulance service to the NHL Winnipeg Jets, Assiniboia Downs, and Red River CoOp Speedway.
Criti Care EMS also provides 24/7 Emergency Medical Services and ambulance service to the northern Hydro communities of Keeyask and KeewatInoow. (Service delivery at Keeyask is a joint venture between Criti Care EMS and Cree Nation Partners). In addition to providing around the clock emergency response at these sites, Criti Care operates a robust community paramedicine program and works closely with the Northern Region Health Authority providing expanded services such as health monitoring, TB DOT programs, hypertension screening, and influenza immunization. Community/workplace First Aid and CPR training is also offered regularly at these sites.
Criti Care EMS provides community standby Emergency Medical Services to the public attending events at MTS Centre, Burton Cummings Theatre, and serves a large number of special events throughout the province including the Red River Exhibition, motocross racing, kart racing, rodeos, etc. Criti Care provides both EMS standby as well as "picture" vehicles to Manitoba's film and motion picture industry. Criti Care's licensed Paramedics provide EMS coverage at a number of industrial sites and construction projects, and are fully equipped to handle all types of medical and traumatic emergencies. Criti Care is COR certified by the Construction Safety Association of Manitoba.
Criti Care provides Paramedics and continuity of service staffing to various Regional Health Authorities in Manitoba, staffing municipal EMS services and responding to community 911 calls.
Wild Fire Medic Program
Criti Care's Paramedics are regularly deployed each season to support Manitoba Conservations' Wild Fire Program. Fully self-contained and equipped with cardiac monitor/defibrillators, oxygen, trauma supplies, and emergency medications, these medics are used to working in austere environments, often responding to the scene of an injury accident or medical emergency by helicopter or ATV.